Links
We would like to thank you or checking out our site, please see our customers and supporters links below for other useful sites on the web.
Valley Car Rental
Valley Car Rental has been locally owned and operated since 1999. Starting with just a small fleet of 4 cars we now have over 80 vechicles!

Hartley Motors
Welcome to Hartley Motors, Inc. Online Dealership. We hope you enjoy your visit and please return often.
Squid Industries mod
Anchorage Yamaha
Anchorage Yamaha is located at 3919 Spenard Road and is Alaska's largest full line Yamaha dealer. Serving Alaska for over 30 years. We offer parts, sales, and service on all Yamaha products.

Eagle River Yamaha
For over 13 years, Personal Watercraft Illustrated has been the industries leading watercraft magazine. Over six years ago we came out with our online version www.watercraft.com

Wasilla Arctic Cat
Here at WASILLA ARCTIC CAT, we are locally owned and operated and provide products to make your outdoor living easier and more enjoyable.

Alaska Power Sports
You can now shop for the products that you've been dreaming of conveniently in our online store.
Alaska Mining & Diving Supply
AMDS is now one of the largest marine and snowmobile dealers in the world. This site is intended to familiarize you with the company and it's products. We hope you enjoy it!
Lifetime Adventures
Welcome to Lifetime Adventures web page!
Join us for the adventure of a lifetime!

Blue Bonsai
Why Bonsai you ask? The bonsai presents the opportunity to form a particularly close relationship with a tree.

Snow Hawk
The sport trail is far the most "Rider-Friendly" Hawk ever produced.

Seavey's IdidaRide
Welcome to the Seavey Family's home page. Here at Seavey's Iditarod Racing Team our focus is on our family, both human and canine.
Motherlode Lodge
The Motherlode Lodge is located one hour north of Anchorage, on the banks of the Little Susitna River in the pristine wilderness of Hatcher Pass.
Alaskan Tour Guides
Discover Kenai Fjords National Park, Denali National Park, in-between and beyond.

Alaska Vacation Cabins
Conveniently located 40 miles north of Anchorage, in the Matanuska-Susitna Valley at Alaska's crossroads to fun and adventure.

Alaska Golden Rush B&B Inn
Alaska Bed and Breakfast (B&B) Cabins
minutes from Palmer, Alaska (AK) & Wasilla.
---
Places to Stay
A Awsome Bed and Breakfast [Anchorage]
You are welcome to visit AAWESOME RETREAT year round to enjoy all the seasons of Alaska!
North Pole Cabins [North Pole]
Allow yourself the gift of a memory that will last a lifetime. Come visit our country's last frontier – Alaska.
Sunset View B & B [Mat-Su]
We invite you to be our guests. Please read on about our Vacation Homes and B&B rooms on the resorts 8 acres of prime lakefront property. In every season, Big Lake is Alaska's Playground, perfectly situated for summer and winter activities.
Agate Inn [Mat-Su]
Alaska lodging to meet all your hotel or motel needs just north of Anchorage between the towns of Palmer and Wasilla.
Alaska's Northland Inn
Alaska's Northland Inn in Trapper Creek invites you to stay in its clean, spacious, and private lodging that sits in the Peters Hills snow machine playground!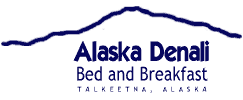 Alaska Denali
Come experience a Northern paradise with a relaxing vacation at the beautiful Alaska Denali Bed and Breakfast near Talkeetna, Alaska.





---